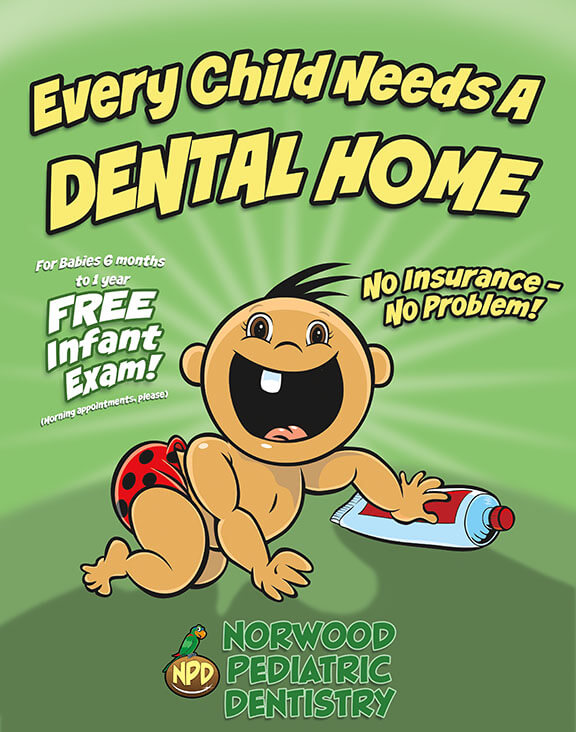 ---
According to the American Academy of Pediatric Dentistry, every child should visit a dentist around age 1 and every six months thereafter. These visits help children begin to get comfortable in a dental setting and allow dentists to observe the dental changes in a child's mouth from an early age.
We are committed to providing a positive experience for your child's first visit to the dentist. When preparing your child, please reinforce the idea that going to the dentist is a fun and comfortable experience. Please try to avoid using words like "pain," "needle," "shot" and "hurt" when talking to your child about the dentist. We will always tell your child about each procedure and how it works, show your child what it looks like, and then perform the procedure when they are comfortable. If you are anxious about the visit, your child will sense that and will be anxious as well.
During the visit you can expect your child to receive the following:
Instruction in proper oral hygiene
Cleaning and polishing of teeth
Examination for decay and deformities
Topical fluoride treatment
X-rays when necessary
Parents are welcome to accompany their children into the treatment areas during visits to our office.
We strive to provide a fun and supportive environment for children. Our approach to dentistry for children is "Tell, Show, Do." We will only use the most comforting and positive words and phrases when talking to your child.
Our goal is for both you and your child to leave our office calm, happy and smiling from ear to ear!
---
---
Patient Registration Forms
---
Please click on the links below to download our forms. Please print and complete the forms prior to your appointment. Please bring the completed forms to your appointment, along with your insurance card. If you are unable to print the forms, please plan to arrive 10-15 minutes early for your appointment so that you can complete them in our office.
Click Here to Access Our Forms
---
---